Whee:
Monday, April 6, 2009
Whee XD
haha, AT LAST! FMA ish back! *goes crazy X3
Yesh, I'm so happy~
I'm downloading it right now, and just cannot wait to watch it!
Lol, yesterday I went crazy. I never ever wanted to go to someplace, and suddenly I just want to! X3 so I asked my mom and my aunt and cousins out.
And there, came my paradise! I went to a mall, and of course honey, I visited the bookstore :). Ah, I'm so happy >///<
I bought ALL yesh, ALL of the Fullmetal Alchemist from one until 18, the latest volume. It's not finished yet, but I've decided I want to collect all of it!
Too bad though, there was no volume 11 and 12 TTATT
But I just love Edward, haha XD He's so charming for me :D and for some reasons =3= I do not like Al, dunno. I just like the bad-ass and crazy type? rofl
Well, the bad-ass type is just more amusing and entertaining for me :)
I love the bad guys >///< especially if he's
handsome
. lol
oh well, bad guys ALWAYS is
handsome
XD lol
Well today I did not go to school! Yesh! Well, I actually went there, but I did not study
at all
. Why you ask? Well, because
my religion
, yesh
the one and only my religion
was having a religious trip to Maria's Cave. lol
I'm Christian if you want to know XD Yesh, so only
my religion
has special right today to not follow the studies. lol. I do not mean to be racist or so. But I'm right, right? lol. =3= I'm just so happy we did not have to follow those boring lessons X3
The weather there was super hot =__=; It felt like dying out there. And I was so hungry =3= I did not have any breakfast, so yeah =__=; We prayed, and visited our late bishops grave. It was quite fun, for me.
And I just went home and now I'm downloading! XD
Oh, and I'm listening to Yui's latest song,
Again
. It's the opening song for the new FMA XD Oh, it's so nice and cool X3 It's so fast 0.o
Anw, I think I'm going to download Pandora Hearts anime.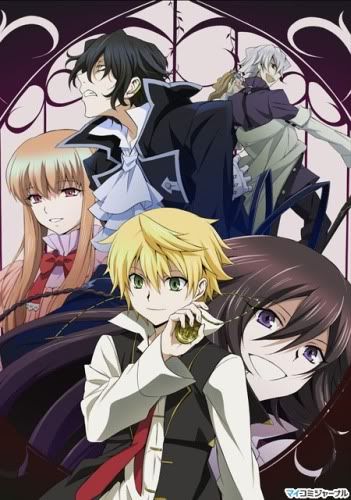 The manga is quite nice, and I just love the mischievous main character <3~ yesh,
mischievous
.
Haha XD, see? I
always always
fall for those type of character <3
Well I'm tired now =3= I'm going to watch those animes and mangas! XD
oh btw, I wanted to try this for a long time :D
TAG!
1. Two argument topics that would REALLY get you going.
- animes
- mangas
-er can I add one more? XD
2. Two songs you've listened to a lot lately.
- Ai no Oto ~English version~ by Moumon *ish the spelling right? I forgot DX
- Again by Yui
3. Two things you usually get complimented on.
- err wild imagination? lols
- tsunnes =3= yesh, aptx gangs XD always say I'm tsundere =__=;
4. Two things you want pierced on you.
- no!
- no! I hate piercings on my body =3= even on my
ears
. Ugh. That's just hurts >//< But I would love to see handsome guys wear piercings XD They look even
hotter!
XD
5. Two tattoos you want.
- gothic curly?
- maybe butterfly too :) gothic one too, of course. Vintage is fine though.
6. Two animals you like.
- Siberian Husky! *OMG THEY'RE SO COOL!*
- err, siberian husky? lol
7. Two occupations you consider for your future.
- graphic designs?
- public relations? I dunno yet =__=;
8. Two things most people don't know about you.
- I'm err, people already know all about me, I think =3= maybe laziness?
- err okay. I admit it =-= I'm mischievous *I think they already know that, though*
9. Two of your exes.
- i dont have exes
-
10. Two ugly names.
- assholes
- bitches
11. Two foods you like to eat.
- fried chicken <3
- french fries extra large! XD
12. Two stores you buy stuff from the most.
- gramedia
- gramedia
13. Two numbers you like.
- 3
- 9
14. Two of your favorite school subjects.
- recess
- english
15. Two things you hate.
- liars
- back stabbers
16. Two people you love.
- family
- friends
17. Two people who should run for president.
- obama? =_= nah, he's
already
a president.
- me! rofl
18. Two things you do a lot.
- netting
- reading
19. Two things you do in the shower.
- wash my body
- wash my hair
20. Two places you go a lot.
- my room
- my room XP
21. Two hairstyles you want to try.
-
anything
=__= I just want a new hairstyle that suits me the most =3=
- =_=
22. Two things you want to buy but don't have enough money for.
- vaio laptop
- sony cybershot
23. Two Green Day songs you like.
- what's green day? =__=;
-
24. Two colors you usually paint your nails.
- I dont paint my nails
- =3=
25. Two languages you want to learn.
- nihongo
- french
26. Two instruments you'd like to learn to play.
- CELLO! XDXDXD
- piano
27. Two dream cars.
- BMW?
- Mercedes =_= I'm blind with cars
28. Two boy's names you like.
- him *I don't want to write the name here because I just don't want to spread his name all over the internet* But you should now though, he's on my
first
list in my friends links.*
- him
29. Two girl's names you like.
- Airii
- Haruka
- Ruuna
- Najika
- Biancchi
*I can't choose any of them. So,all of them are all my number one list :)*
30. Two ethnicities of yours.
- Chinese
- betawinese
31. Two of your favorite teachers.
- MJS *i will put in initials only*
- AM
32. Two best friends from elementary school.
- Edith
- Joshua
33. Initials of two people you hate.
- I don't have any
-
34. Two words to describe you.
- lazy ass
- moody
35. Two colors you want to dye your hair one day.
- light brown
- same as above =3=
36. Two of your favorite seasons.
- SUMMER! lol XD It's in my name!
- winter XD I would love to see snow just once
37. Two hairstyles you usually wear your hair in.
- untied
- letting it free?
38. Two nouns that begin with the same letter as your first name.
- Rain
- Roar
39. Two electives you've taken.
- huh?
-
40. Two people you go to for advice.
- friends, any of them, but mostly Airii I think :D
-
41. Two names you'd name your band if you had one.
- no idea =3= I sucks at giving names.
-
42. Two colors you'd like for your wedding dress.
- elegant white :)
- peach
43. Two types of shoes you like.
- sneakers
- sneakers
44. Two trends you can't stand.
- AFRO
- idk =__=;
45. Two of your favorite drinks.
- plain water
- coca cola
46. Two things people do that annoy you.
- plagiarism
- liars
47. Two things you look for in a significant other.
- idk... maybe they're true self...
-
48. Two things that aren't legal, but you think should be.
- idk
-
49. Two fonts you like.
- mechanial pencil
- arial
50. Two good memories from middle school.
- my classmates!
- my third year! XD
I TAG
1. Najika
2. Dila
3. Haruka
4. Airii
5. Biancchi
So here's the rule:
people whom I tagged HAVE to post this questions and answer them in your blog. And you HAVE to tag ANOTHER person!
Labels: tag